How Brands Leverage Social Media Marketing
If there is one thing that has taken the 21st century for the ride it is Social Media! There's no denying that different social media platforms such as Facebook, Twitter and Instagram have turned into an addiction for a huge population of the world, and hence it only makes sense for every brand to leverage this. No matter whether you are a startup, an SME or a domestic or nation-wide brand, your social media game has to be strong to not just win customer trust and engagement but also survive against competitors.
An average customer would scroll across his news feed multiple times a day, and to reach out to that potential customer, you can employ several social media strategies. You not only have to know the technology behind creating a Facebook Ad or a Twitter Campaign, but you also need to be super creative to remain in the minds of the customers long after they see your ad.
At all All Stars Digital, our super enthusiastic team runs multiple campaigns every month and hence is always on toes with their research. Considering the cricket fever is on currently, they have put together 3 brands who launched rocking social media campaigns to make most of the IPL season. Of course, as always, you can hit us up if you too want to launch a social media campaign during the 2019 IPL or World Cup Season!
IPL: The one time when the whole of India is on Social Media, forecasting, commenting, reviewing and expressing emotions for one match after the other. And you want to make sure that your brand is right in front of them when they are doing all or any of it.
⦁ Pepsi's #CrashTheIPL Campaign

Pepsi launched a killer crowdsourcing Social Media Campaign in 2018 called "CrashTheIPL". The campaign was rolled out in the form of a contest, wherein everyone was encouraged to make a 30-second video commercial highlighting how much they loved Pepsi. For this, they also collaborated with content creators on YouTube, Instagram, and other social platforms with the promise that the best and would be aired ON TV during the IPL! Now that is one smart way of driving engagement during the nation's most popular sports event!
How well did the campaign fair?
Clocking almost 2700 ads within 5 weeks, CrashTheIPL went on to become one of the most successfully executed crowdsourced social media campaign. This also included engagement with over 27.2 million consumers and trending on Twitter eight times in five weeks.
⦁ Britannia 50:50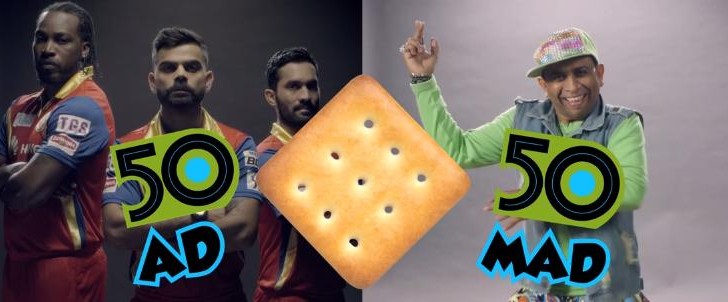 Britannia, a loved biscuit brand in India, leveraged it's 50:50 product in IPL8 to launch its digital campaign #5050Feeling. Since the company was also sponsoring Royal Challengers Bangalore that season, it released the campaign in collaboration with the RCB team players. Each player shared their #5050Feeling through short videos. It then asked fans to share their own 50:50 feeling videos on social media. The whole campaign took the form of a contest wherein the best entries got a chance to party with the RCB players in Bangalore. The campaign was amplified by bringing in social media influencers.
⦁ American Tourister's #HardToLetGo Campaign
American Tourister – a well-known suitcase and bag brand launched a contest on Twitter via its  #HardToLetGo campaign. In this contest, it used its brand ambassador Virat Kohli. On relevant match days, it tweeted to ask people "How Many Sixes will Virat Kohli hit today"?
There were 3 options given and the winner was promised a grand prize. Hence, their goal was to engage with the audience by taking advantage of both their brand ambassador and the on-going cricket fever.
These are just 3 out of hundreds of brands that leverage the power of social media and cricket fever in India to boost their brand presence as much as possible and engage with their potential customers. Not capitalizing on this peak time might turn out to be a regrettable mistake.
Create your next Social Strategy with All Stars Digital by reaching out to us right here.