Brands Should Invest In E-Commerce, Here's why
When was the last time you saw a millennial and noticed that they are not on their phone? When was the last time you felt normal with the absence of the internet? I can mention multiple statistics that will prove that E-commerce is on a boom, the smartphone market is experiencing their best-case scenario and the internet penetration of the world's major economies is high. But self-realization is the best proof you can provide to someone. Even luxury brands like Louis Vuitton, have an online presence. They may not be selling their products online, but they do have a product display page and a "Call for availability" option. Having an e-commerce presence is a MUST for every brand these days.
Online purchases are on a rise: Alibaba sold $17.5 Billion worth of product alone on a single day. Amazon is one of the biggest companies today. Customers are leaning towards enjoying the comfort at home instead of going to a brick and motor to make a purchase.
Make sales 24/7: Brick and motors, how much ever they try they cannot make sales 24/7. Even if they are open 24/7, not many people are able to go out and make purchases at odd hours.  That is when having an e-commerce platform proves beneficial. These days' people online shop when they are at work, in the middle of their classes, before sleeping, when they wake up, and in my case, immediately after my mom calls and yells at me for not buying the stuff she asked me to purchase a week ago.
Expansion is easier: In brick and motors, if you want to expand, you'll have to buy a store in another location or find a larger store. But in e-commerce, all you need to do is add more products, or add another section in your website.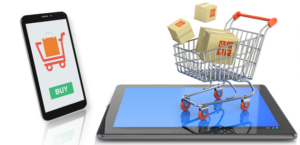 Track your customers' needs: This happens in brick and motor stores as well, the products that go out of stock sooner or perform better than the others set an example. Either more of these products are ordered or new products are an edited version of these. With AI and databases now, companies can understand customers' behaviour better, make their shopping experience better. In earlier days, salesmen did that, they listened to the customers' needs, understood what they like, dislike, their type and helped them shop. Every customer needed a separate salesman, now in the e-commerce world, one algorithm or one strategy is enough to cover all the customers if the picked well.
Companies can lower their costs, they can provide product details and describe their products better, reach international markets, etc. Presence on the internet improves the brand image of the company, it helps you reach more customers than the traditional methods. Overall, it won't be wrong to conclude that why Brands Should Invest In E-Commerce, provided you have a properly designed e-commerce site and quality products to sell.